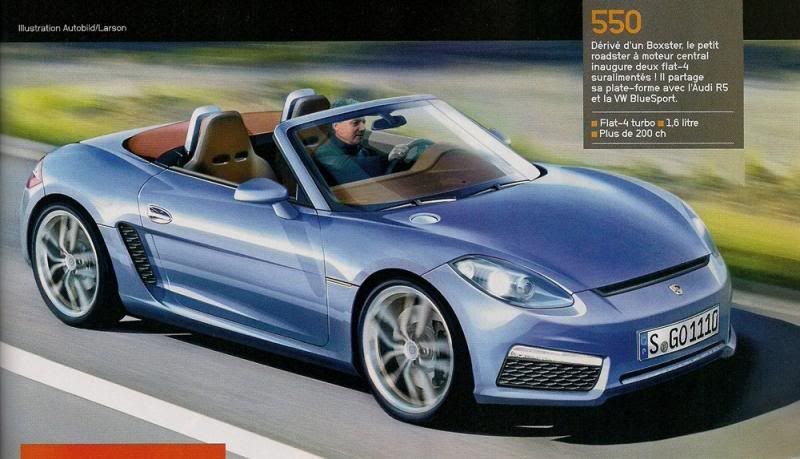 It's no secret that Porsche has been developing a new flat-four engine. Recent intel has surfaced claiming that the 2.5L started life as the 3.8L flat-six and then removed two cylinders. This new powerplant will have Direct Injection, VarioCam Plus, and one turbocharger. Horsepower is expected around 350+ and a redline of 7,500 rpm. Transmission will be PDK (with remapped ratios), while the manual is still under consideration.
It is believed that Porsche will debut it this September at the Frankfurt Motor Show.
Both the Boxster and Cayman will be fitted with the 2.5L turbo for 2014. Also rumored to receive the new engine is the Macan, Pajun, and 550 Spyder.
In other news, Porsche said that a non-turbo version 2.5L flat-four could make its way onto an entry level model (new 550 Spyder anyone?) for 2015. It is based on something the Volkswagen Group already has but never produced (BlueSport?). Porsche's CEO Matthias Mueller has previously said a new 550 Spyder is definitely still in the works, and it's not a question of if, but when.
- Expected Porsche Timeline -
• Late 2013: The Macan (small SUV built off the Audi Q5) will officially debut.
• 2015: The return of the infamous 550 Spyder is being developed, however no exact debut date yet.
• 2016: The facelifted Cayenne appears (rumor of Cayenne Coupe also)
• 2017: The Pajun (Panamera Junior) could see production, which is a four-door coupe designed to slot below the Panamera.
Click the Title to comment & HERE for the full story